A fully-automated public weighbridge operates 24/7 in Fremantle Ports' Truck Facility at Rous Head:
39 metres long to accommodate double road trains
5 platforms to handle all current vehicle combinations operating in WA
24/7 fully automated operation using a credit card kiosk to allow drivers to handle the weighing themselves anytime day or night
separate driver platform to allow drivers to operate the system with the highest safety standards
flexibility while meeting legal obligations
calibrated weighbridge for paid weighs, regardless of vehicle combination, in the quickest possible time
provides gross and tare weighs as well as simple, quick axle weighs.
Access:
Via Port Beach Road into Manoora Close and continue into the truck marshalling area (not fuel). Stay along boundary fence line. Park in the truck marshalling area if there is a wait.
Approach weighbridge slowly and proceed directly onto the platform.
Position vehicle by moving forward/back until the weigh lights display GREEN.
Stop. Turn off headlights. Ensure brakes and gears, etc. are not engaged.
Exit vehicle and proceed to payment terminal.
Pay for weigh at the payment terminal by credit card or via a customer account. Receive ticket.
Exit once light is displayed.
Opening hours:
24 hours, 7 days a week.
Capacity:
39m long, 150t capacity, five-deck weighbridge. Capable of weighing 'standard' WA road vehicle configurations up to 36 metres in length.
Payment options:
Cost: $42 flat rate, whether it is for tare, axle weigh, gross or all three, or for members of the public.

Payment must be made in advance of receiving a weight. Use credit card or pre-arranged customer account (activated with pin). To set up an account, call 6232 2800 between 8am-5pm or email i&[email protected] (use the subject heading 'Weighbridge Account Set Up').

Toll Global Express
T: 6232 2800
E: i&[email protected]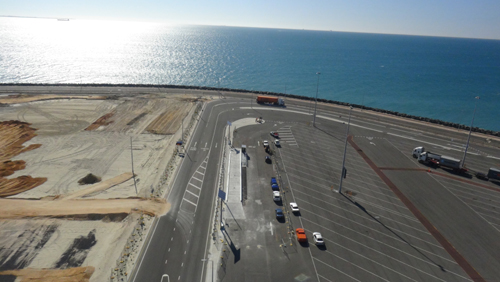 Find out how you can explore the port or get ferry and cruise info...