Fremantle Ports boards the Derby
Fremantle Ports is proud to support the 2022 WA Day Derby, an iconic sporting event with historic ties to the port.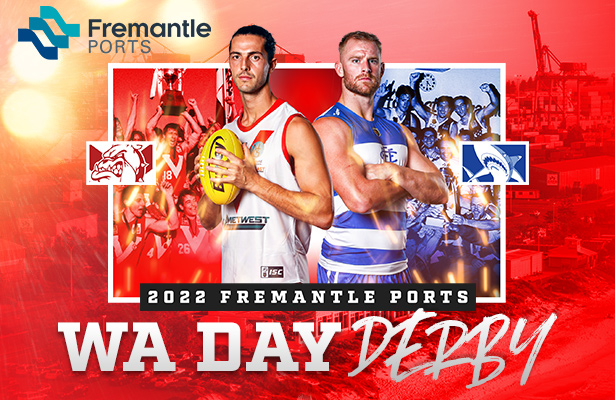 Fremantle Ports and
South Fremantle Football Club
are thrilled to announce Fremantle Ports as SFFC's 2022 WA Day Derby Match Day Partner.
The annual WA Day Derby on Monday June 6 is an iconic West Australian sporting fixture between South Fremantle and East Fremantle Football Clubs.
It is a match steeped in proud history which divides Fremantle and surrounds into red and white & blue and white.
The partnership will enable South Fremantle to deliver an outstanding presentation of Fremantle's biggest annual football game, with a call to action to all members of the community to come and experience Footy in Freo.
South Fremantle CEO Cameron Britt welcomed the partnership from Fremantle Ports.
"The annual WA Day Derby is an incredible event, and we applaud the support of Fremantle Ports in 2022. Our Club was built on the backs of wharf workers in our vibrant Port City, and the local maritime industry has played, and continues to play, an important role in the life of our Club and our membership," Britt said.
Fremantle Ports CEO Michael Parker said Fremantle Ports was proud to support the Derby, which was a great Fremantle community day steeped in history and connected to the port.
"The Fremantle Ports WA Day Derby is not just a football game but an iconic event on a special day that celebrates the diversity of the whole Fremantle community," he said.
"It's an opportunity for South Fremantle and East Fremantle supporters, families and the wider community to come together and celebrate a game with a long tradition in the heart of Fremantle at Fremantle Oval."
The partnership will see the creation of a 'Fremantle Ports Family Package', a ticketing offer at subsidised pricing accessible online for all families wishing to attend the public holiday fixture.
In further community nexus, South Fremantle Football Club has nominated the Stephen Michael Foundation as Official Charity Partner for the 2022 edition of the Derby.
The Foundation will undertake fund and awareness raising activities across the match-day, aligning with their mission in supporting young people to become valued members of the community.
Find out how you can explore the port or get ferry and cruise info...