Drainage works in Phillimore & Cliff sts, Fremantle starting 13 April
Water Corporation has advised that stormwater drainage construction work is expected to begin Monday 13 April 2020 on Phillimore St between Cliff Street and Peter Hughes Drive. Expected completion is the end of October 2020.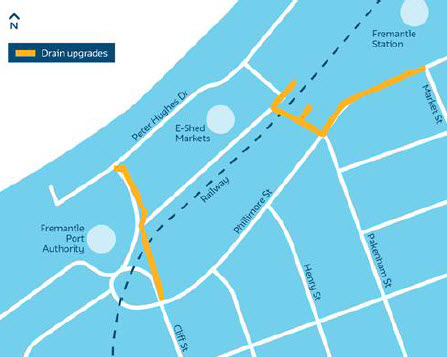 Information from Water Corporation:
Water Corporation's authorised contractor DM Civil will soon start work to renew stormwater drainage on Phillimore Street and Cliff Street in the City of Fremantle. This will improve the capacity of the drainage to store and convey stormwater which will prevent flooding and damage to infrastructure in the future.
The location of this work is shown below: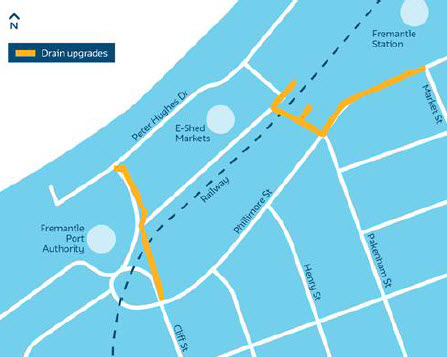 Phillimore Street
Drainage will be renewed from the south west of Fremantle Train Station on Phillimore Street to the sea at Victoria Quay, connecting via tunnel under the railway lines and car park. This will be a total of about 334 metres of new stormwater drainage.
Cliff Street
Drainage will be renewed from near the intersection of Phillimore Street and Cliff Street and crosses into Victoria Quay, connecting via tunnel under the railway lines. The new stormwater drain will be about 177 metres in length.
When is this work happening?
Construction work is expected to begin Monday 13 April 2020 on Phillimore Street between Cliff Street and Peter Hughes Drive and is expected to be completed by the end of October 2020. Please see the below construction schedule for expected timings of the work:
Estimated timing
(Indicative only and subject to change):
Phillimore Street
17/03/2020 – 15/09/2020
Cliff Street
18/05/2020 – 16/09/2020
The majority of the work will be completed between 7am to 7pm, Monday to Saturday. As part of the work, there will be 24 hours works to complete the underground trenches under the railway. This is anticipated to happen between 22 April and 22 June 2020.
If we need to make changes to this scheduled work in response to updated advice regarding the COVID-19 pandemic, we will let you know.
What are the impacts?
Detours
There will be traffic management in place to minimise health and safety risks. Some roads might be temporarily closed to accommodate works. Detours will be in place and you will be notified in advance. Please check watercorporation.com.au/
Noise, dusty and increase in activity
Unfortunately, as with any construction activities, there will be an increase in noise, dust and activity throughout the works. Machinery including generators, excavators and cranes will be on site. We will work closely with surrounding residents and businesses to minimise disruption as much as possible.
Environmental and historical heritage
Water Corporation acknowledges the environmental and historical heritage in the area and is committed to protecting all flora, fauna and historical heritage sites throughout the work. We have engaged an environmental specialist and archaeologist which we will work closely project team throughout the work.
Reinstatement of impacted areas
All areas impacted throughout the work will be reinstated to as close to the original condition as possible. We thank you for your patience and appreciate your cooperation while this necessary work is carried out.
What else is happening in Fremantle CBD?
In April/May 2020, Water Corporation also plans to renew the pipes in Fremantle's CBD water main network to help secure the reliability of water to customers in the area. Please visit watercorporation.com.au/PipesForFremantle for more information.
Who to contact
 For more information please contact Ingrid Cumming, Water Corporation Senior Advisor Community Engagement, email
[email protected]
or call (08) 9420 3190.
 DM Civil Project Manager, Scott Fielding on 0439 921 626 or
[email protected]
 Water Corporation Project Manager, Louis Tang on 0448 280 540 or
[email protected]
For regular project updates, visit
https://www.watercorporation.com.au/water-supply/ongoing-works/fremantle-drainage-work
 If you need to report a fault, emergency or security issue, please call our 24 hour line on 13 13 75
Find out how you can explore the port or get ferry and cruise info...