Fremantle Ports supports a wide range of organisations and initiatives in our catchment communities of Fremantle, Cockburn, Kwinana and Rockingham through our Community Investment Program.
Fremantle Ports has been part of the community for over 120 years and in that time, has built a reputation for being a trusted partner. We can't be a successful port without the support of the community. That support comes from working with the community in areas where it matters most.
Maximising social outcomes is acknowledged in our corporate values and our business principles commit to building the capacity of our local catchment communities. Fremantle Ports operates in Fremantle, of course, but also has Outer Harbour operations in Cockburn Sound. The local communities in these geographic areas are a particular focus for Fremantle Ports.

This information is to help you understand what types of initiatives we support and why. We urge you to think broadly, rather than narrowly, about how Fremantle Ports might support you and why it should support you.

Our Community Investment Program has four focus areas:
| | | | |
| --- | --- | --- | --- |
| Community enrichment | Education | Environmental leadership | Arts and culture |
Community enrichment - We support organisations, events, festivals, sporting clubs, concerts and performances which help strengthen the local community. This includes an emphasis on helping local communities tackle social issues of concern to those communities.
Education - We support educational partnerships that aid public understanding of maritime operations, help build WA expertise and knowledge in this area, and/or contribute to people having opportunities to gain future employment in the maritime field.
Environmental leadership - We support environmental programs that support, enhance, protect or celebrate our marine environment.
Arts and culture - We support programs which have a strong focus on creating a sense of place and reflect the Fremantle Port environment as part of Western Australia's unique and diverse culture, natural beauty and environmental features and those that support the strong links Fremantle Ports has to Aboriginal culture. We wish to connect Fremantle Port to arts and culture in all its modes.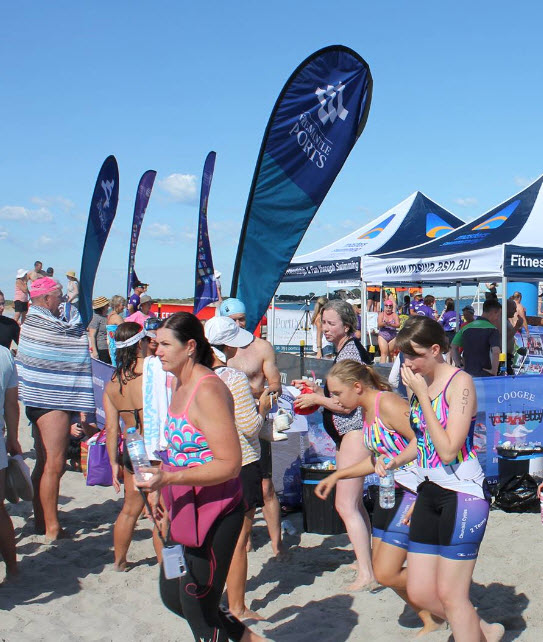 OUR CRITERIA:
We look for projects, activities and initiatives that:

support our catchment communities of Fremantle, Cockburn, Kwinana and Rockingham and surrounding areas
are aligned with Fremantle Ports' Values and our four key areas of focus
identify needs of our catchment communities, make a real difference, contribute positively and reflect community priorities
create opportunities for promotion, communication and interaction
involve Fremantle Port, Victoria Quay or Fremantle Ports employees in a positive way.
We also provide in-kind support and welcome applications on this level.
WHAT WE CANNOT SUPPORT:
personal assistance requests
activities that do not align with our Values
activities that cannot demonstrate a clear connection to Fremantle Ports or its local communities
travel and accommodation costs
wages.
All applications must be submitted online and contain the following information:
To be considered, it is important you answer all the questions on our application form. For example:
Include a clear and concise description of the sponsorship, activity or initiative.
Give full details of the request and its aims, objectives and expected outcomes.
Detail how the request aligns with Fremantle Ports' Values.
Address each criterion.
Attach a brief marketing and promotional plan that sets out how you would acknowledge Fremantle Ports' involvement.
Detail your target audience and how your initiative supports and makes a difference to the community.
FUNDING ROUNDS AND RESPONSE TIME:
Fremantle Ports' Community Investment Committee receives a large number of requests. Applications are considered four times a year in April, July, October and January. Therefore, applications must be received by the following dates to be eligible for consideration:
Funding round 1: closing date 30 March
Funding round 2: closing date 30 June
Funding round 3: closing date 30 September
Funding round 4: closing date 30 December
YOUR OBLIGATIONS:
We see our community investments as a partnership. Should your application be successful, Fremantle Ports will work with you to ensure you can meet your obligations under the agreement. Organisations that are unable to meet their obligations under a community investment sponsorship may not be successful with future applications. We can provide advice and assistance to you on this and encourage you to contact us to discuss your application.
Our Values:
Respect and integrity
Responsiveness and delivery
Sustainability
Safety and wellbeing
Continuous improvement and innovation
What are important to Fremantle Ports are Our People, Customers, Environment, Community and Success.​
Find out how you can explore the port or get ferry and cruise info...