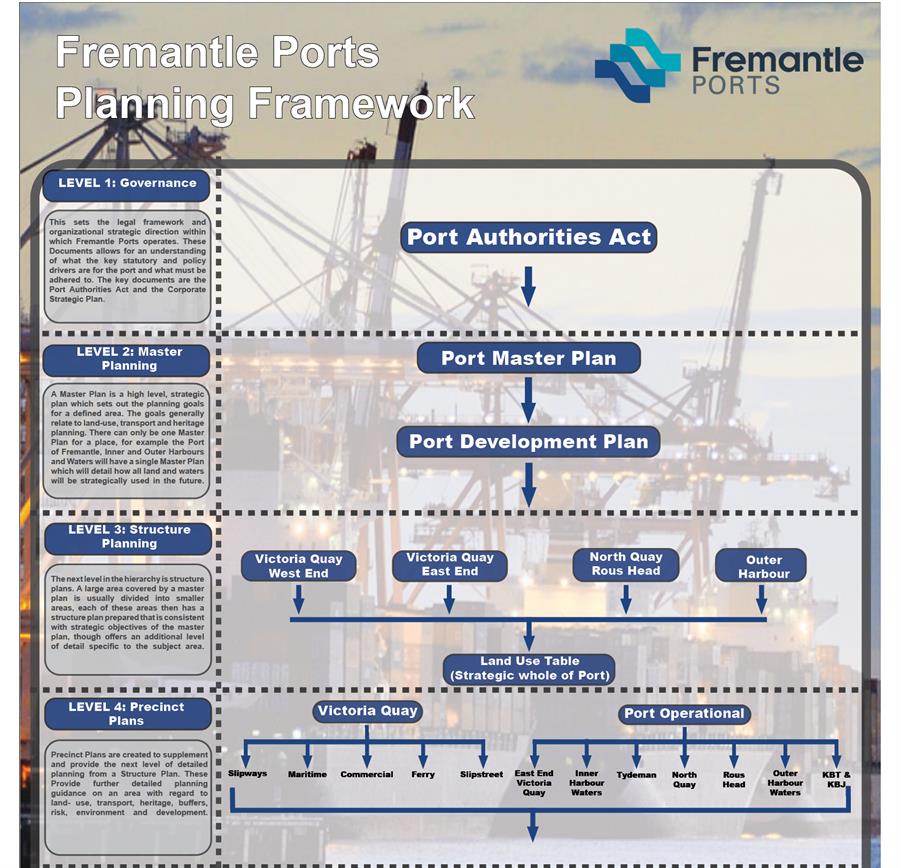 Fremantle Ports' Planning Framework
Fremantle Ports' Planning Framework is the basis for coordinating and promoting land use planning, transport planning and land development in a sustainable manner. It connects a range of different types of plans starting at the highest level with a master plan that is aligned to the vision and mission of Fremantle Ports. This sets the scene for other plans that follow in the hierarchy. The objectives of the planning framework are to:
ensure the best long-term, sustainable decisions are made by Fremantle Ports and its stakeholders
reduce or mitigate risks associated with these decisions
provide users with an overview of the various planning documents and policies which support each level and clarify how these are interrelated
simplify the planning processes for users.
Westport Taskforce
The Westport Taskforce is developing a plan to manage WA's growing freight demands for the next 50 years and beyond. Ports are the gateway for most of the imported goods used in the homes and businesses of all Western Australians. For exporters, it is a vital link to world markets. To ensure the State's future trade needs are met, well-planned port facilities are essential.
Swan River Crossings (Fremantle Traffic Bridge replacement)

Main Roads WA is planning to replace the existing Fremantle Traffic Bridge and deliver a crossing that considers road, passenger and freight rail and path connectivity across the Swan River. Fremantle Traffic Bridge, built in 1938 as a temporary structure, has been deteriorating and despite extensive strengthening and maintenance works, the bridge needs to be replaced.
Buffer Guidelines
Collapse and expand this accordion
Development Plans
Collapse and expand this accordion
Electrical Services
Collapse and expand this accordion
Environmental Guidelines
Collapse and expand this accordion
Fact Sheets
Collapse and expand this accordion
Landscaping
Collapse and expand this accordion
Planning Approvals
Collapse and expand this accordion
Planning Policies
Collapse and expand this accordion
Planning precincts
Zoom in to click on one of our 9 planning precincts on the map below to find the planning documents relevant to that precinct.
Committed to planning in a sustainable way
Planning policies relating to areas of the port are in place and development guidelines are designed to help those preparing development applications and to assist Fremantle Ports in assessing applications.
Planning approvals
Any proposed development within Fremantle Ports' land and waters (Inner Harbour or Outer Harbour) needs planning approval from Fremantle Ports. Steps to submitting an application for planning approval:
Contact the Planning Branch to discuss your proposal.
See the Planning Guidelines for information on how to apply.
Submit your completed Application for Planning Approval Form and completed Planning Application Checklist.


Find out how you can explore the port or get ferry and cruise info...