Fremantle cruises back for spring and summer
The cruise tourism industry is surging back as the warmer weather herald a fresh season of new arrivals into Fremantle Port, bringing with it inbound visitors, delivering economic stimulus and vibrancy to the port city.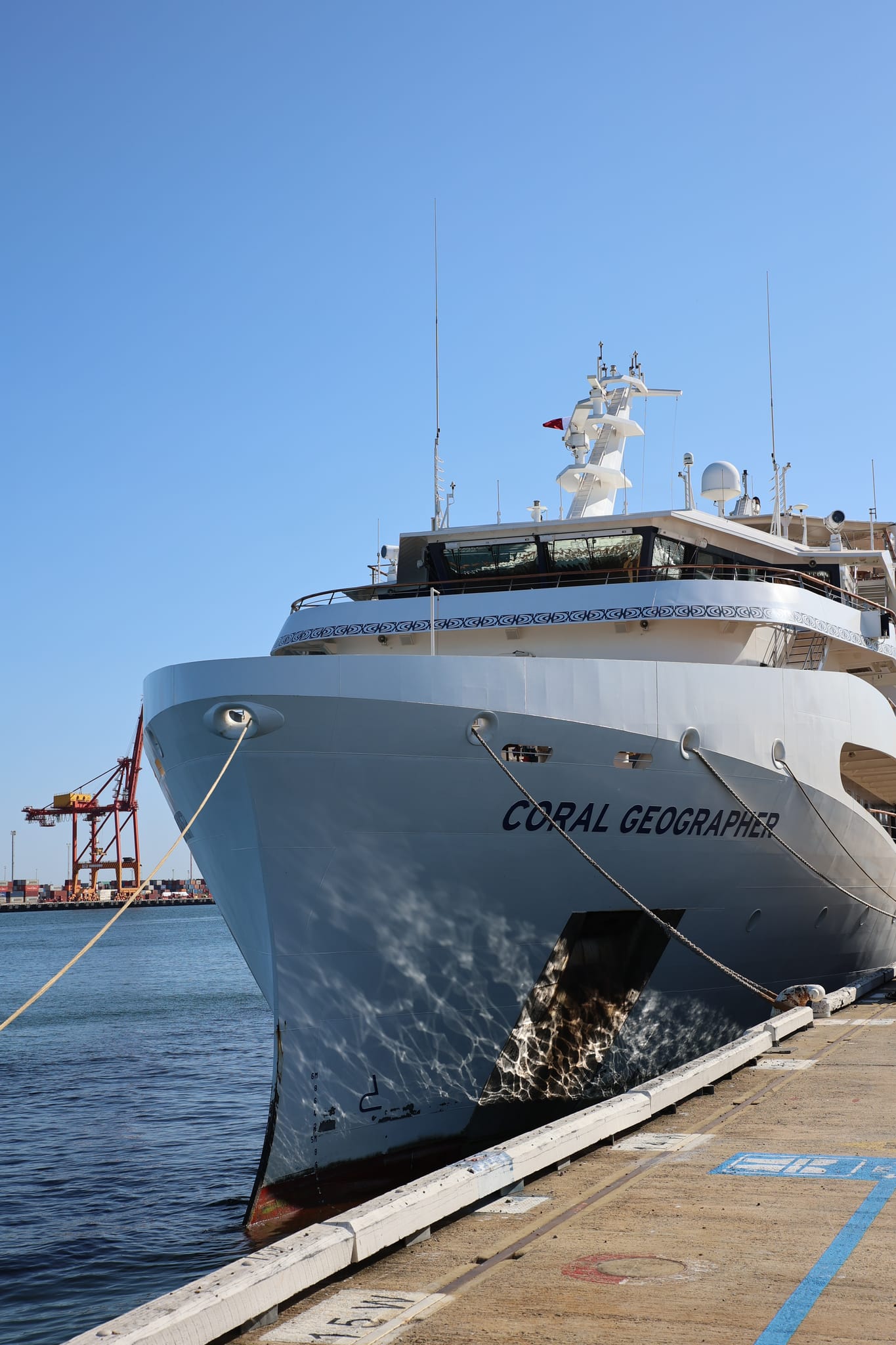 On Friday 20 October 2023, the spring/summer season of cruise officially began with the safe arrival into Fremantle Ports of the Coral Geographer, the first of many vessels that our trained professionals will guide deftly alongside Victoria Quay.

Once disembarked in Fremantle, visitors then connect with a broad and diverse range of inbound tourism options, assisted by the destination marketing team at the City of Fremantle.

"There is a busy schedule of cruise ship visits planned," said Neil Stanbury – Manager Government Relations for Fremantle Ports, "and we are working with the City of Fremantle and Tourism WA to ensure that we optimise their experience and connect them with great local attractions."

Supporting the strong return of cruise tourism, Mr Stanbury explained, is key to how Fremantle Ports and its partners are implementing the State Government's new Cruise Tourism Strategy, that was launched in July of this year.

"Last year", he shared, "33 vessels brought 67,000 visitors through the Fremantle Passenger Terminal, and this year will see an even stronger result, including many vessels visiting Fremantle for the first time."

Fremantle Mayor Hannah Fitzhardinge said she hopes visitors from interstate and overseas linger longer to enjoy everything the city has to offer.

"Cruise ships make a valuable contribution to the local economy. Our businesses benefit from the extra trade and attractions like the Fremantle Markets, Fremantle Prison and Fishing Boat Harbour receive a boost in visitation."

Given its proximity to the newly-arrived visitors, Victoria Quay is the ideal first stop to explore attractions including theWA Maritime Museum (that currently features a special exhibit commemorating the 40th anniversary of the America's Cup yacht race victory in 1983), the E Shed Markets, Gage Roads Brew Co., and for onward connections for day or overnight trips to Rottnest Island via Rottnest Express and Sealink.

Visitors arriving in October will also have the added bonus of exploring the Fremantle Biennale 2023 - Signals when it begins on 3 November 2023, proudly supported by Fremantle Ports and the City of Fremantle, plus many other attractions and events.

Information about attractions, events and offerings for visitors are available about Victoria Quay and at the This is Fremantle online hub.

Interested in tracking vessel movements in and out of Fremantle Ports? View our HarbourCams to monitor developments live and 24/7, plus you can also see vessel arrivals and departures via our Voyager online portal.
Media: Images and video of the Coral Geographer are available for download here.
celebrations as the coral geographer arrives-web
Find out how you can explore the port or get ferry and cruise info...