Fremantle Ports supports schools and artist awards at Castaways 2019
The two popular-choice awards at the Rockingham Castaways Sculpture Awards, Andrew Wilmott's Standing Guard and Rockingham Beach Primary School's Tangled Web, were sponsored by Fremantle Ports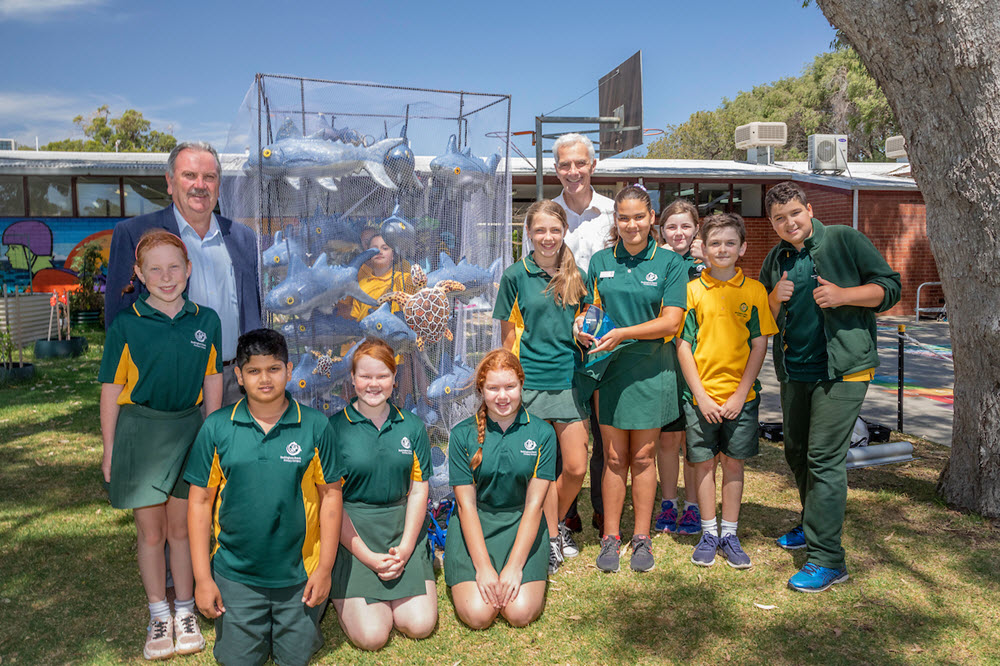 Students from Rockingham Beach Primary School with their artwork Tangled Web with Rockingham Mayor Barry Sammels (left) and Neil Stanbury, of Fremantle Ports
The two popular-choice awards at the Rockingham Castaways Sculpture Awards are Andrew Wilmott's Standing Guard and Rockingham Beach Primary School's Tangled Web.
Fremantle Ports sponsored the People's Choice Award and the Schools Choice Award, which are voted on by visitors to the Castaways exhibitions.
The 11th Castaways Sculpture Awards Exhibition took place from 26 October to 3 November with thousands of people visiting the main Castaways Exhibition on the Rockingham Foreshore, the Schools Exhibition at Churchill Park, and the first-ever Maquette and Small Sculpture Exhibition at the Rockingham Arts Centre.
Fremantle Ports' Corporate and Community Relations Manager Neil Stanbury said Fremantle Ports was proud to support Castaways, a great community event.
"The creative reuse of materials aligns with our priority of environmental sustainability," he said.
"We are delighted to sponsor the People's Choice Award, a fantastic way to give visitors a voice and reward an artist who inspires them.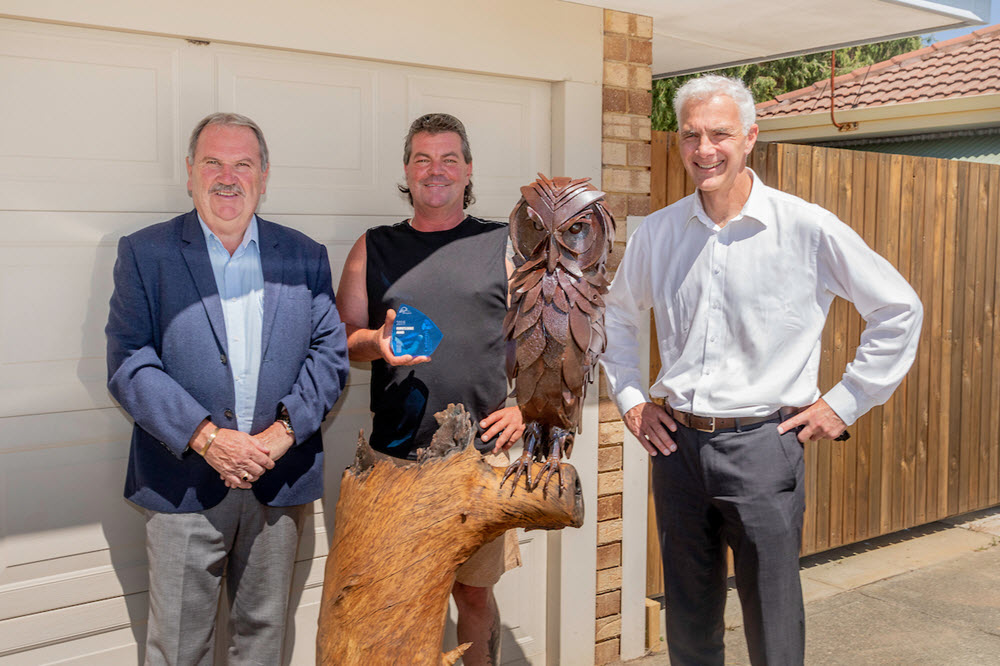 Rockingham Mayor Barry Sammels, artist Andrew Wilmott with Standing Guard and Neil Stanbury, of Fremantle Ports
"It's great to see a local artist rewarded for their creativity with recycled products, in particular the use of metal."
He said Fremantle Ports was also pleased to support the Schools Choice Award as the sculpture by Rockingham Beach Primary School was about supporting ocean sustainability.
The City of Rockingham's Castaways Sculpture Awards is Rockingham's signature arts and culture event, celebrating artistic innovation and environmental awareness.
The outdoor sculptural exhibition showcases sculptural artworks from Western Australian artists created from recycled and repurposed materials at the newly revitalised Rockingham Foreshore.
Running since 2008, the annual exhibition creates opportunities for emerging artists, professional artists, local business and schools to be involved in a large-scale community event promoting sustainability alongside arts and culture.
Find out how you can explore the port or get ferry and cruise info...