Strong annual results reported by Fremantle Ports in 2023
Fremantle Ports has delivered more than ever for Western Australia in FY 2022-23, including record container trade, and is investing in assets and community.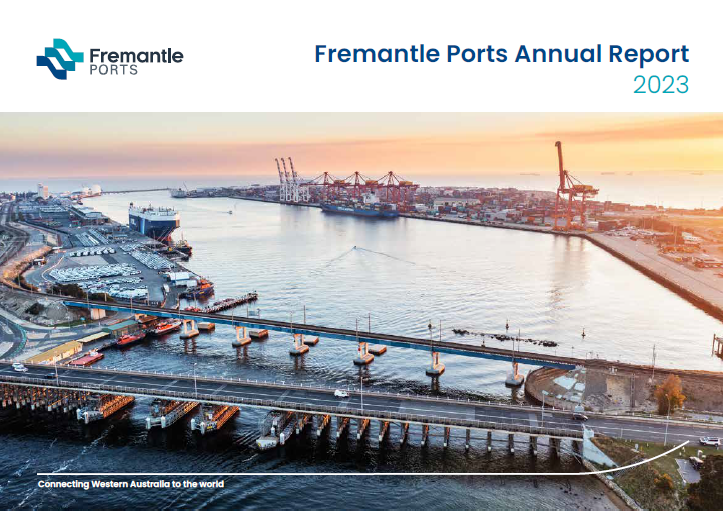 In releasing the FY 2022-23 Annual Report, Chief Executive Officer, Michael Parker has shared the challenges and opportunities faced by Western Australia's largest port, delivering strong results in important key areas.
"It is an exciting time to be leading our business, as our operational environment evolves. Game-changing investments we are making will transform our business and cement our role as an amplifier for our State's future growth," Mr Parker said.
Commercially, it has been a strong year for Fremantle Ports as evidenced by these results:
Before-tax profit of $67 million,
Total value of trade $46,183,798,392 (AUD 46.18 billion),
Record in container trade of 809,709 TEU (twenty-foot equivalent units), up from 792,021 TEU last year.
Pleasing progress has been made towards the goals outlined in Fremantle Ports' Strategic Plan, which prioritises key safety, sustainability, efficiency and reliability, capacity and engagement.
On safety, the total recordable industry frequency rate for incidents has halved, as Fremantle Ports advances in its journey towards safety maturity.
Importantly, the wealth generated by Fremantle Ports has been re-invested in its local community in many ways:
as a major employer - directly and indirectly supporting thousands of jobs,
by providing opportunities for local businesses that have helped to deliver more than $100 million in infrastructure and asset improvements,
boosting local economic growth by securing supply chains through exports and imports,
and through direct investments and in-kind sponsorships and support for grassroots community initiatives linked to its operations in Fremantle and Kwinana.
Doing so is in keeping with Fremantle Ports' corporate values of collaboration, accountability, respect and excellence.
Mr Parker's sentiments were echoed by Board Chair, Chris Sutherland, who reflected on the most recent financial year: "It has been one of growth and adaptation to change, and the congruence of these has seen our organisation demonstrate resilience and agility as we have lifted to meet these challenges."
With an eye on the future, Mr Sutherland shared that "sustainability has been a major focus for Fremantle Ports, and this is a principle applied in the broadest sense - incorporating how we manage our people, our assets, our systems and programs - it informs everything we do."
Fremantle Ports shares these results with all Western Australians and is proud to deliver on its core purpose of facilitating trade for a more prosperous Western Australia.


Fremantle Ports' Annual Report 2022-23 is now available to download in full.
Find out how you can explore the port or get ferry and cruise info...