British naval frigate arrives
HMS Sutherland arrived in Fremantle Port this morning.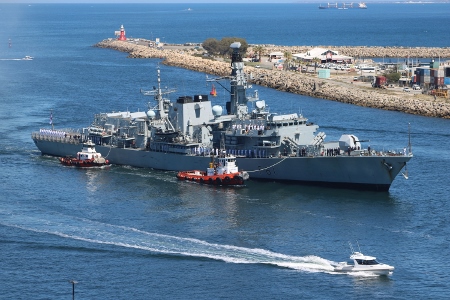 HMS Sutherland arriving at the Fremantle Inner Harbour entrance
HMS Sutherland, a Type 23 anti-submarine warfare frigate, sounded an eleven-gun salute as it arrived at the Fremantle Inner Harbour entrance.
The ship has berthed at Victoria Quay on a visit to Australia.
After Fremantle, the ship will visit Adelaide, Melbourne and Sydney.
The visit will provide an opportunity for joint exercising and showcasing Britain's anti-submarine warfare technology.
The ship will not be open to the public while it is in Fremantle.
For more information about the ship, see here.

Find out how you can explore the port or get ferry and cruise info...