Cruise ship trio at Fremantle Port
Three cruise ships were berthed together at Fremantle Port today.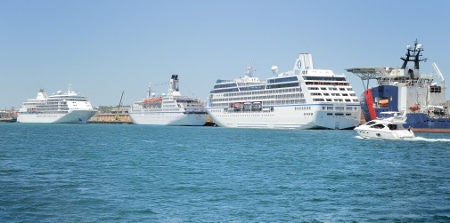 Three cruise ships at Victoria Quay (from left): Silver Shadow, Astor and Regatta
Fremantle Ports' Inner Harbour has been a particularly lively scene today with the unusual occurrence of three cruise ships in together at Victoria Quay.
A busy shipping program for other operational berths has added to the colour and interest of this busy working port.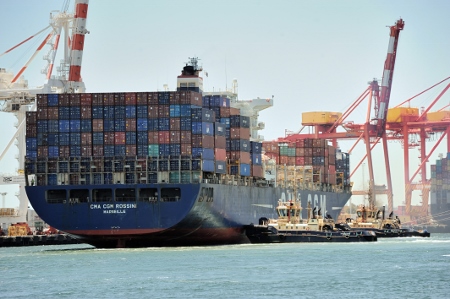 CMA CGM Rossini was one of three container ships at North Quay
The cruise ship Regatta, on a debut visit, extended its planned one-day stay from yesterday and has been joined by Astor and Silver Shadowtoday.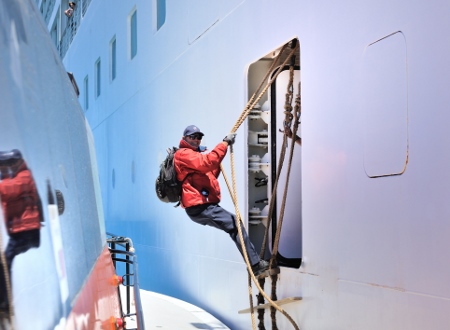 Marine pilot Captain Greg Tonnison climbs aboard Silver Shadow to bring the cruise ship into port
For 2018, there are 43 scheduled cruise ship visits to Fremantle Port, comprising 27 turnaround visits (where Fremantle is the first and last port in a voyage and there is complete passenger transfer) and 16 transit calls (ships calling at Fremantle during a cruise and passengers make day trips).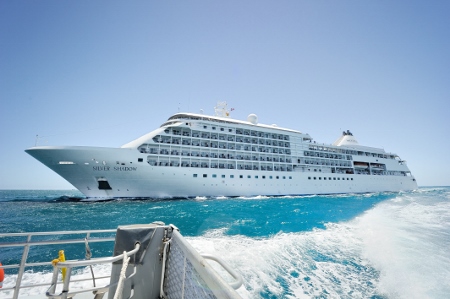 Silver Shadow makes its way towards the Fremantle Inner Harbour around midday today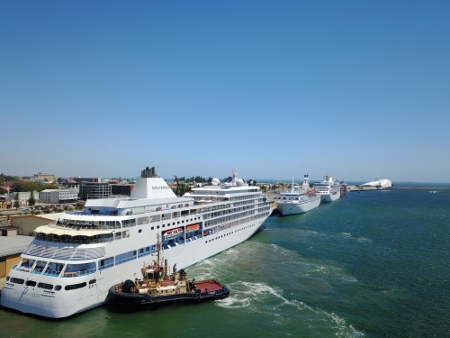 Silver Shadow berthing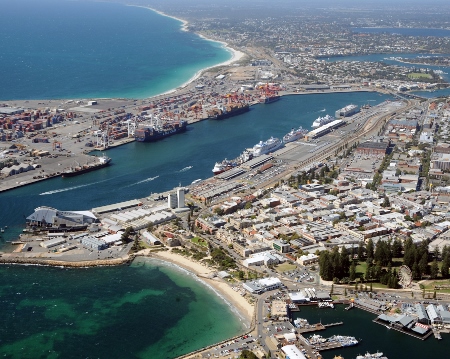 A busy harbour on 12 January
As well as Regatta, first visits to Fremantle are being made by Ocean Dream (24-25 January), Azamara Journey (26-27 January), L'Austral (8 February), Seven Seas Navigator (25 February), Golden Princess (22 March), AIDDAAura (20-21 December) and Azamara Quest (21-22 December).
Ocean Dream is chartered by the Peace Boat organisation, a Japan-based international non-governmental and non-profit organisation that works to promote peace, human rights, equal and sustainable development, and respect for the environment.
Peace Boat carries out its main activities of global educational programs, responsible travel, cooperative projects and advocacy activities through Ocean Dream which travels the world on 'peace voyages'.
Megaliners Queen Mary 2 and Ovation of the Seas will be returning to Fremantle in 2018 on 12 February and 25 October respectively.
In 2016-17, there were 60 cruise ship visits to Fremantle, comprising 45 turnarounds and 15 transit visits.
Direct expenditure from cruise ship visits to Fremantle in 2015-16 was $144.6 million.
Astor is scheduled to depart at 6pm tonight, Regatta at 7pm tonight and Silver Shadow at 1pm on Sunday (14 January).
For up-to-date shipping arrival and departure information, see Shipping Movements.
Find out how you can explore the port or get ferry and cruise info...